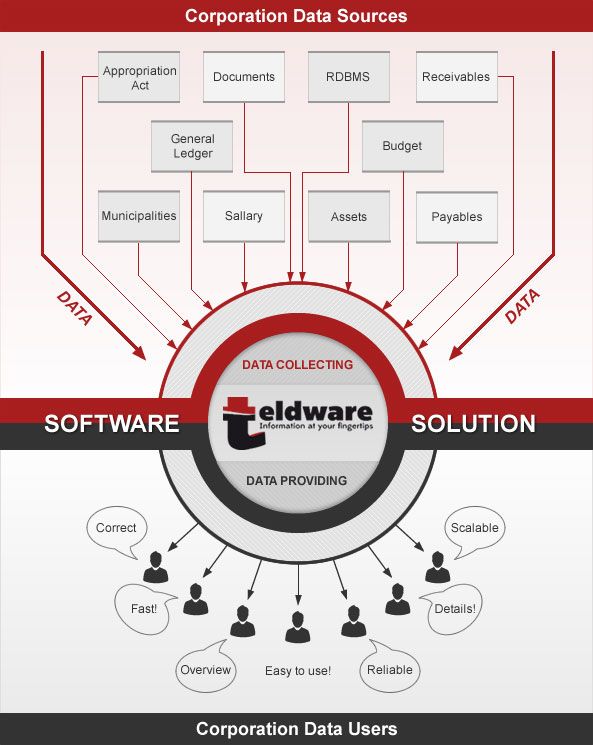 Your Economic Data

Holds the Answers to Key Business Questions
Teldware makes it
readily accessible

.

Every company or government organization has economic data that, if put to good use, would make a difference in profitability and/or efficiency.

But often, that data is ignored. Why?

Because it's not easily accessible. The product database doesn't synch with the customer's geographic profiles, the ERP system won't export specific transportation budget data driven by municipality, the human resources suite doesn't work with the sales forecasts, and so on.

Teldware solves all of that.

Ideal for corporations, governments, or any organization to that want to make economic follow-up easier. Teldware is compatible with Oracle-based ERP systems and other accounting systems.

As Head of Department at the Ministry of Culture I have for several years used Teldware as one of my leadership tools. In my opinion Teldware is an excellent management tool of any direction in order to follow the production numbers. The system has been improved much during the last few years and now has even more good qualities and new facilities. Teldware is easy to use both for the management and for the employees.

Bjarni Wilhelm,
Department at the Faroese Ministry of Culture
Learn More about Teldware
If you use data in any manner, then Teldware could open up an entirely new way to view your organization's internal workings and processes.
Custom Software Development
Professional software developer Eyjólfur Gislason created Teldware and also can develop almost any application you desire. Need custom software?
Get a No-Obligation Quote
It all starts with a conversation. If you feel Teldware (or perhaps a custom application) can help you, then we want to hear from you.